Yesterday along the trail I took a little stroll down I found that there are many many E. engelmannii in bloom this year and that I could go about 10 feet in any direction off the trail and probably find one in certain areas. Along the steeper parts of the terrain there werent as many as in the flatter or at least less step ground. The trail winds between several of the foothills/mountains of the Bradshaw Mountain range. The location of where this trail is a few miles south-west of Black Canyon City Arizona and due west of Rock Springs, AZ for anyone that has been in the area.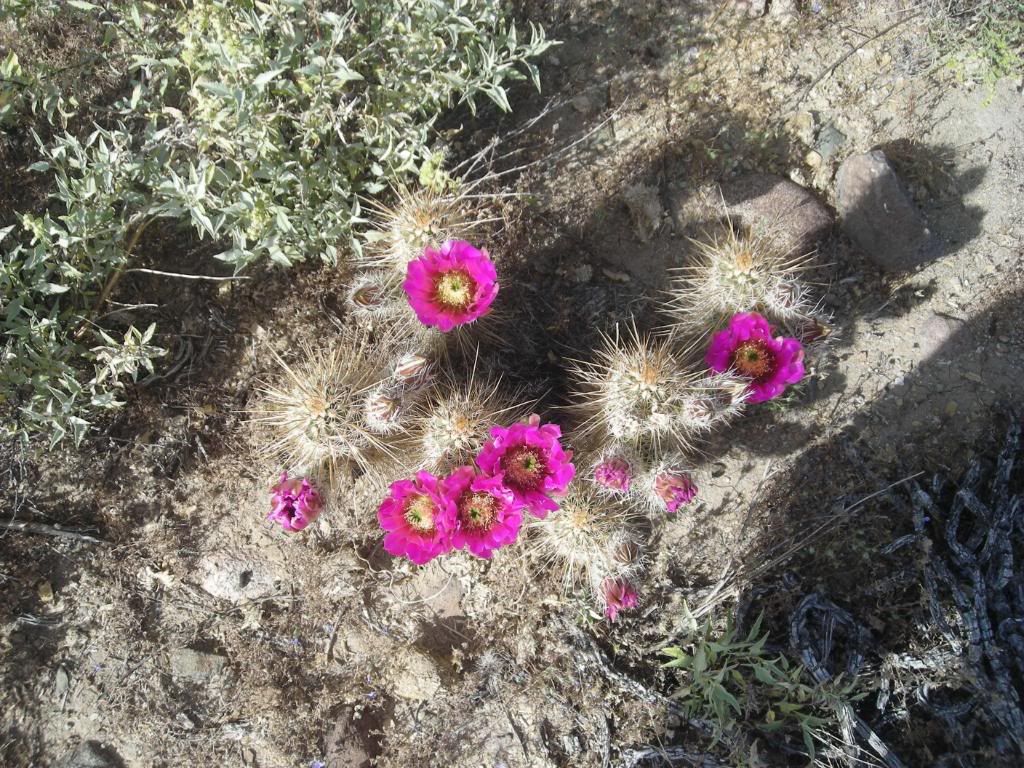 Off to a good start. This was the first one I came upon, literally 7 feet in front of where I parked in the parking lot and a good way to start things off and also shows what I would be seeing a lot of!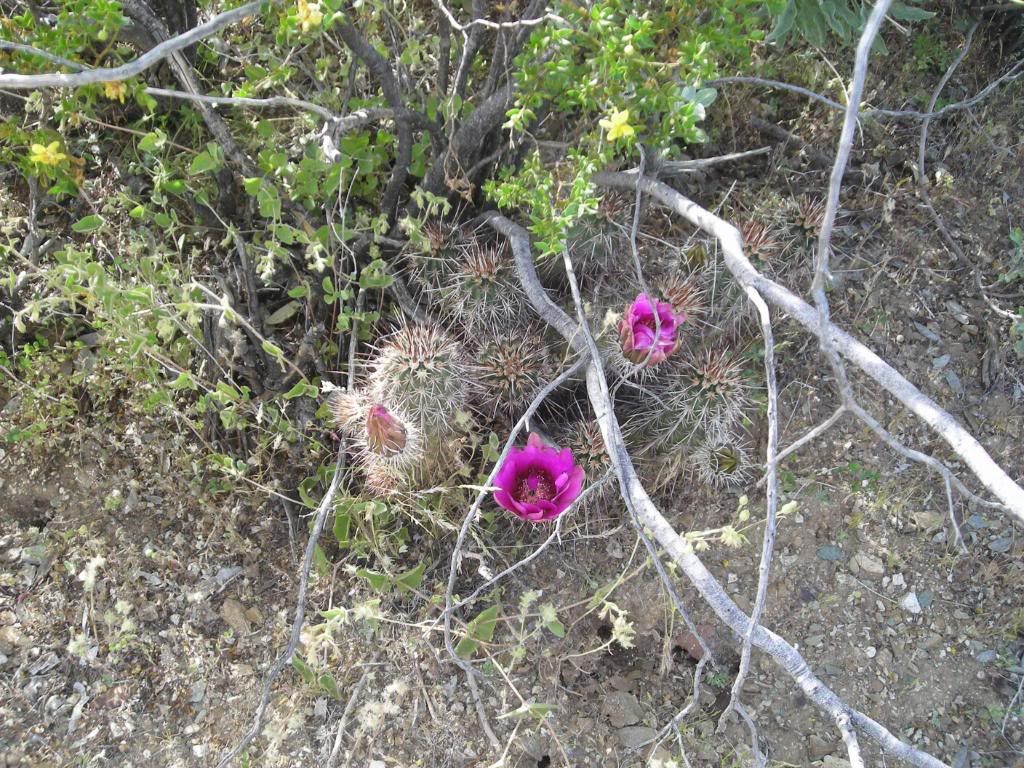 Next one I found. Right off the path and under a bush before I Even entered the trail!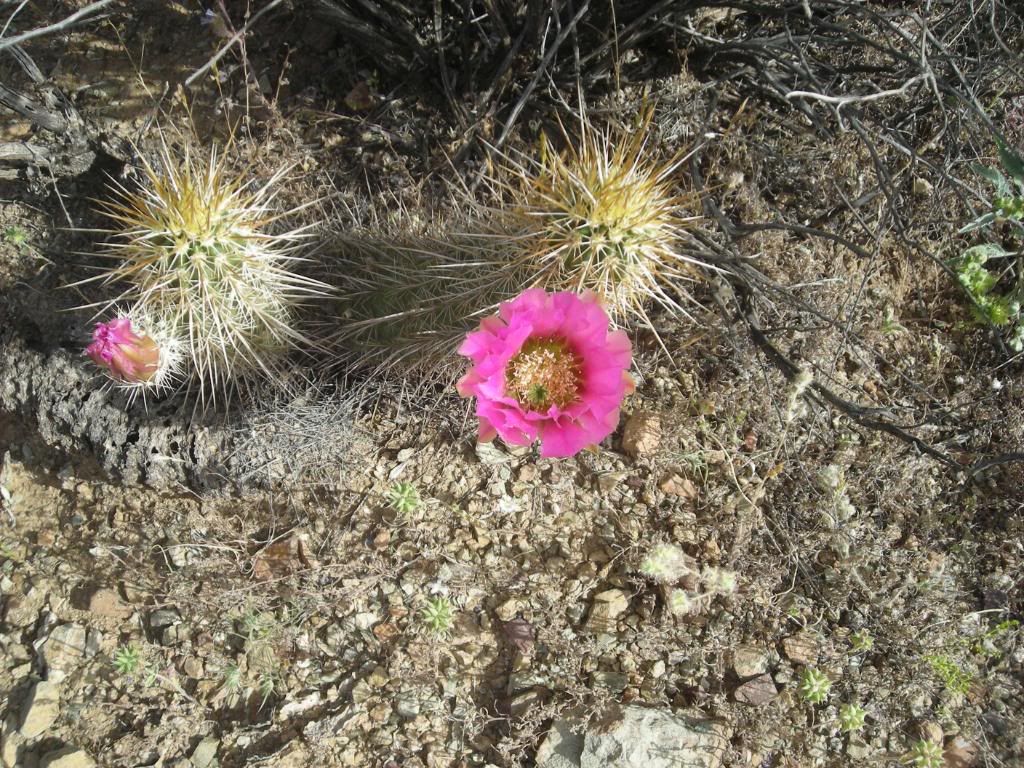 A lighter pink colored flower. It might have been open for 2 days or it might be a lighter color I am not sure which! I think after observing a known cactus of that species it is that they are opened for the second day... but once again they might have slight variation in their coloring as well.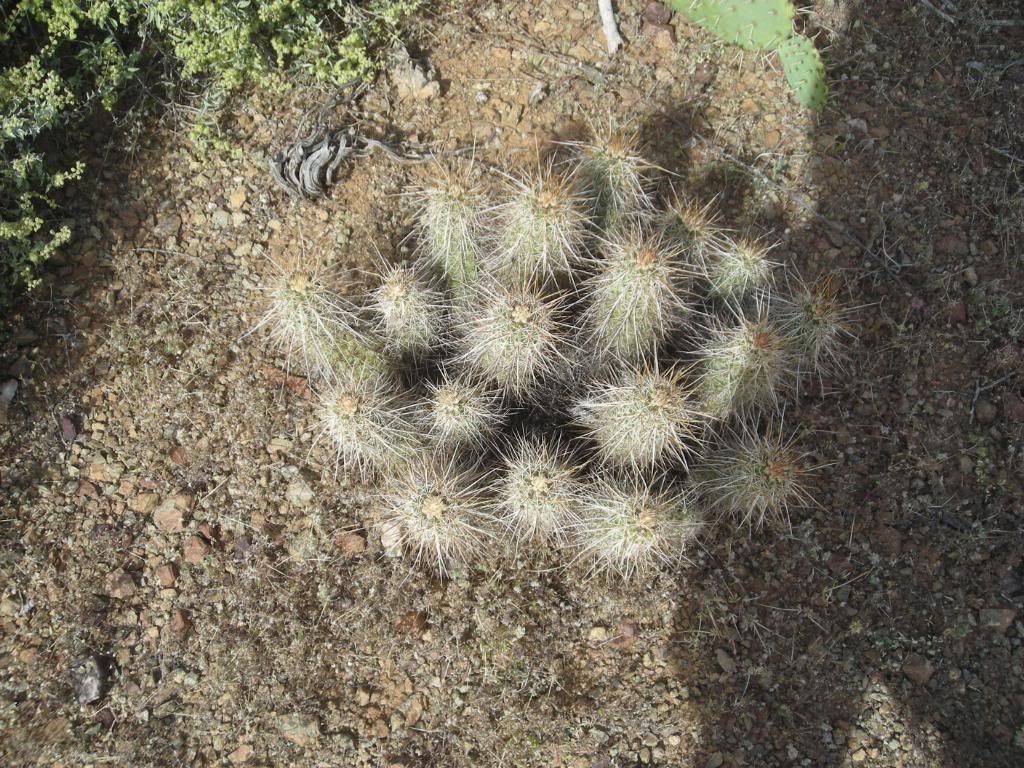 The biggest clump I found off the trail and also with NO flowers or buds. Wonder if its going to bloom later or at all?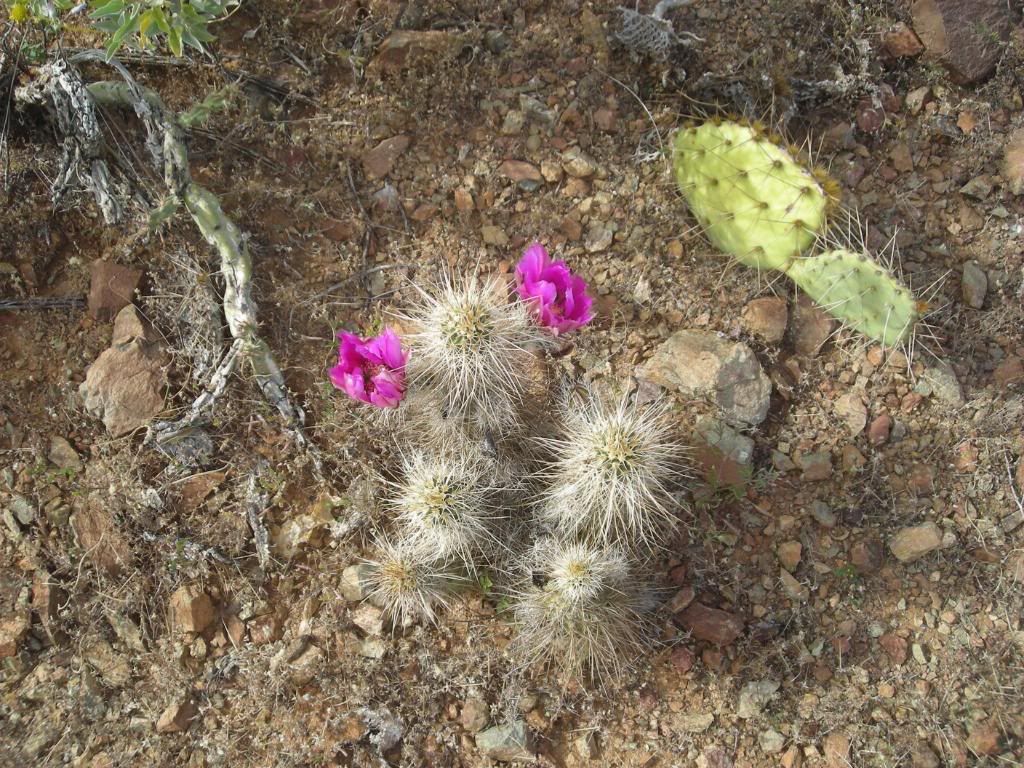 I just missed the buds on this one... they are neat looking as they close up though.
Behind it is an O. phaeancantha

notice all the glochids on it?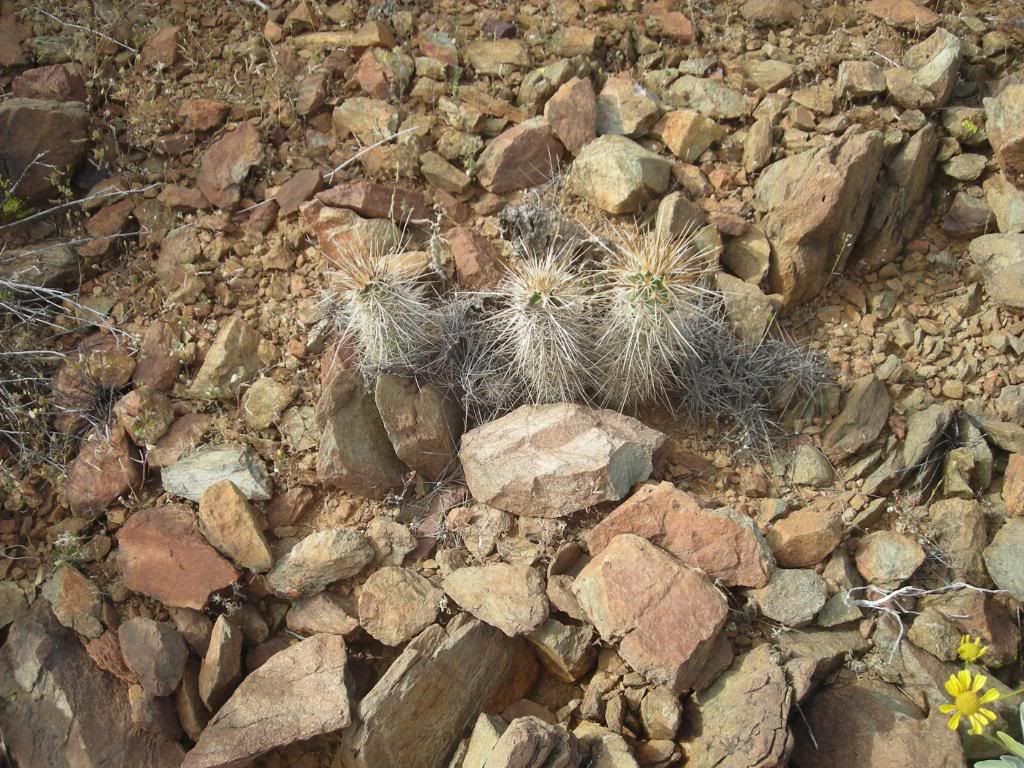 Like a lot of the cacti of Arizona these guys look perfectly at home growing amongst the rocks.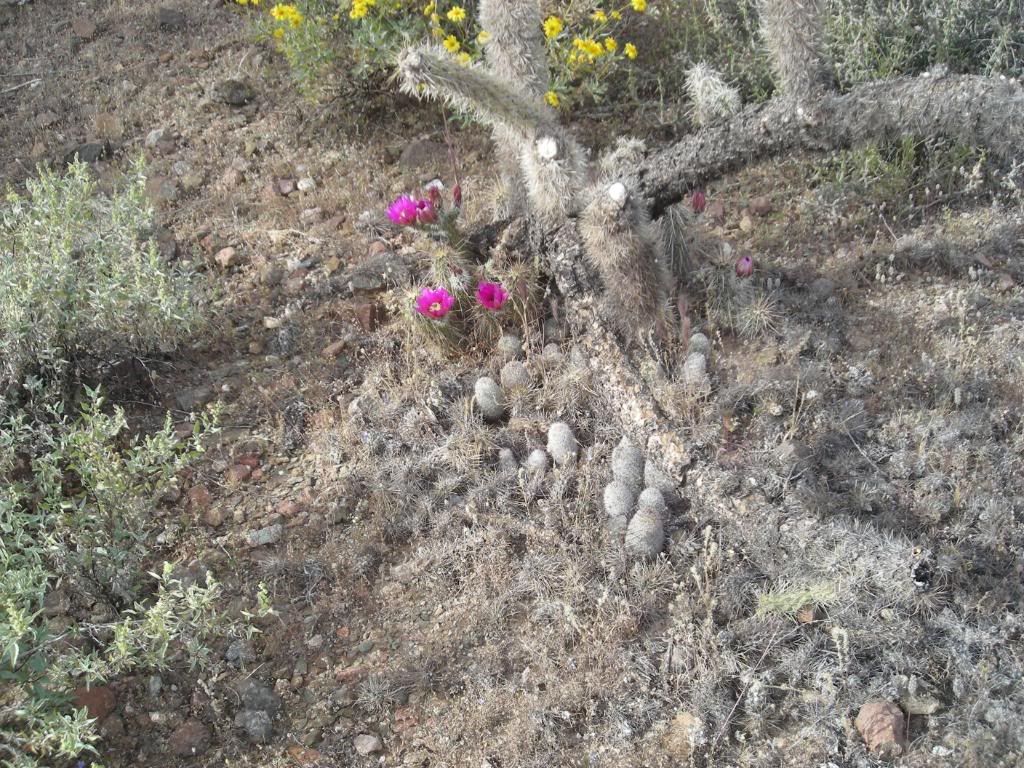 2 views of a neat patch of several varieties of cacti. A dead C. fulgida or C. bigelovii and some M. grahmii and E. engelmannii all living under the dead cacti. One thing to note is that even dead plants have their uses out in the desert.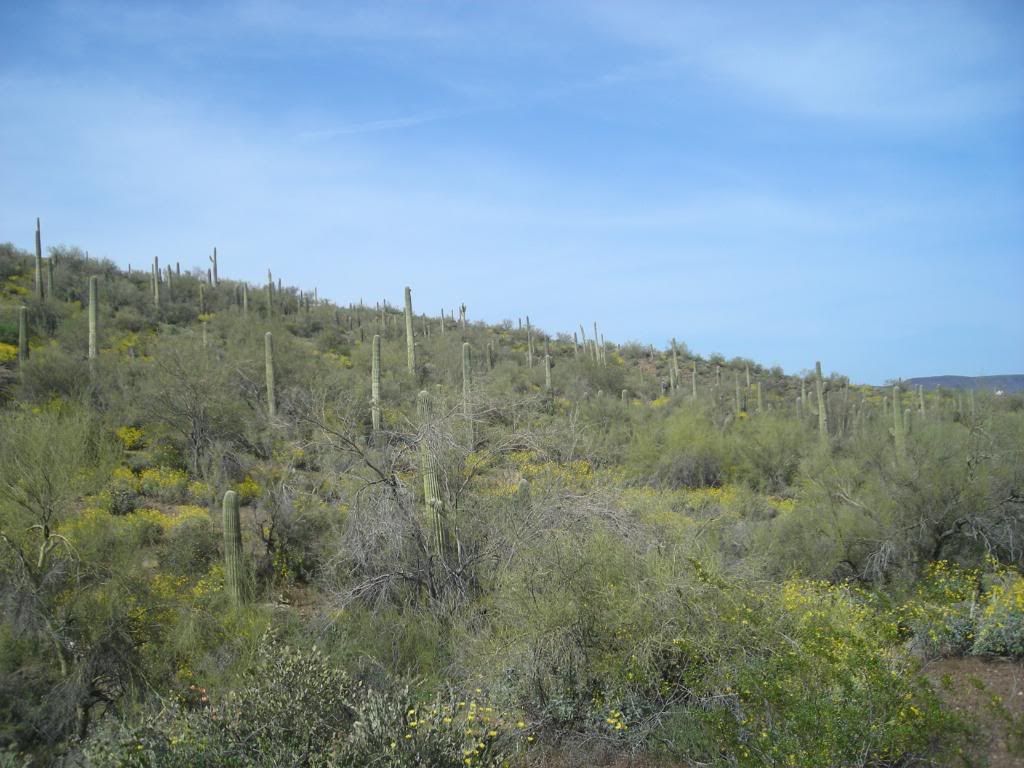 A general habitat shot of the area... I think it qualifies as a saguaro forest.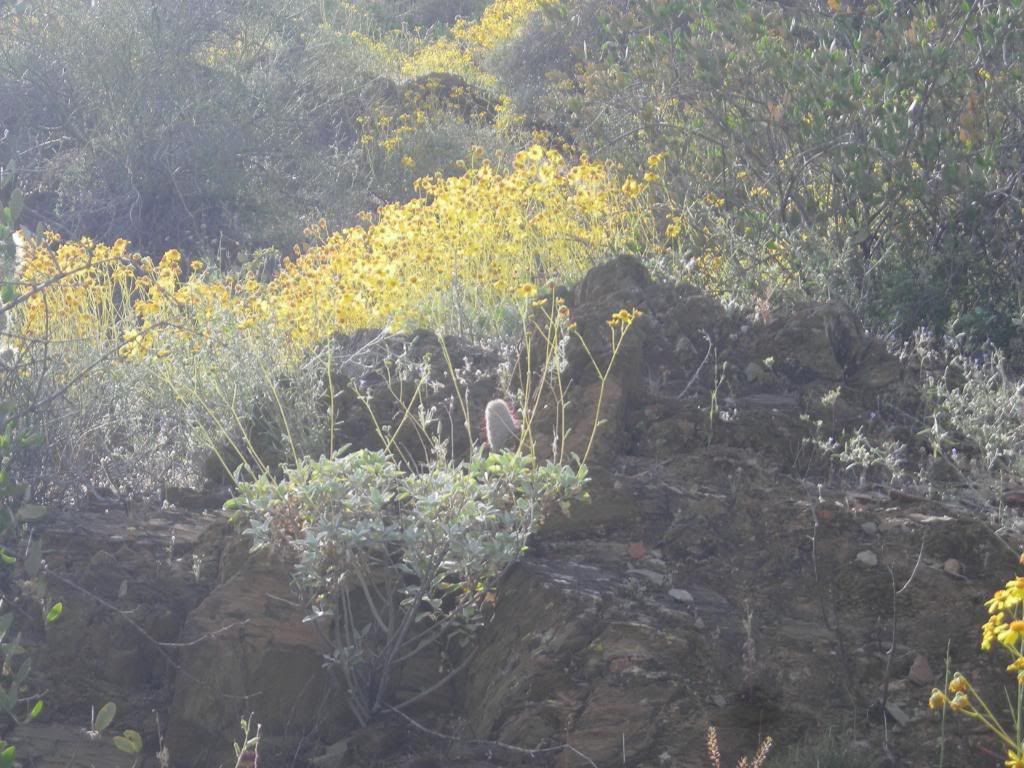 Another general habitat shot, although it is hard for one not to notice the stunning Mamm with its cool reddish colored spines. When I first saw it with the naked eye, it had a pink halo around it! I am glad that a little bit of that is visible esp on the right side of the Mamm!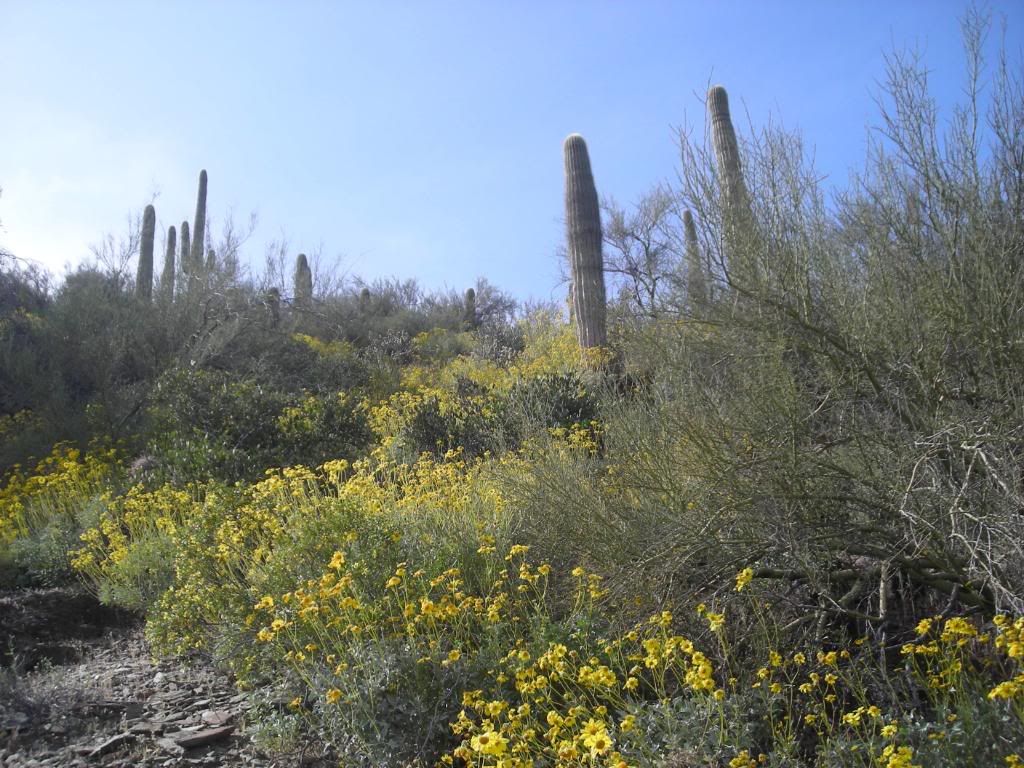 Another general habitat shot showing everyone why the desert is yellow around here and why my allergies are going nuts, however these plants which I have a few make up for the minor allergy problems with their brilliant color and ability to live without any watering at all from me!
A small E. engelmannii blooming. The plant was about 4 inches tall and the flower was about two inches tall..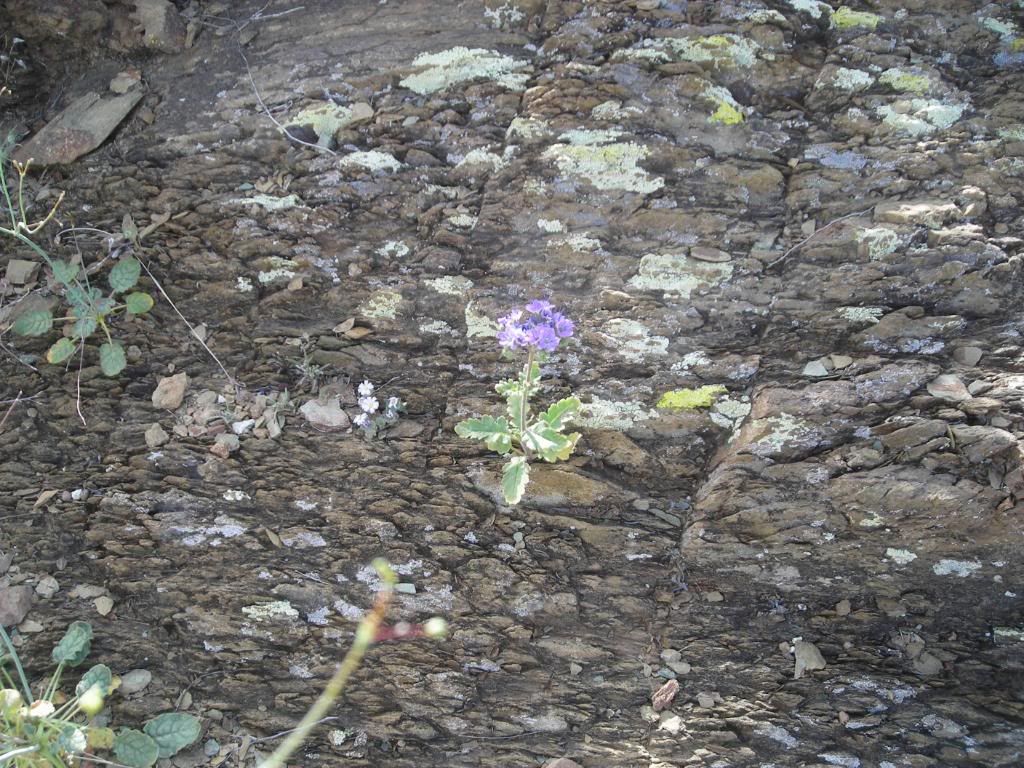 A little interesting wildflower. I dont know the name of it, but I do know that its amazing in how it lives right there in the rocks, seemingly growing out of solid rock, however I am sure that its growing out of a small crack in the rocks!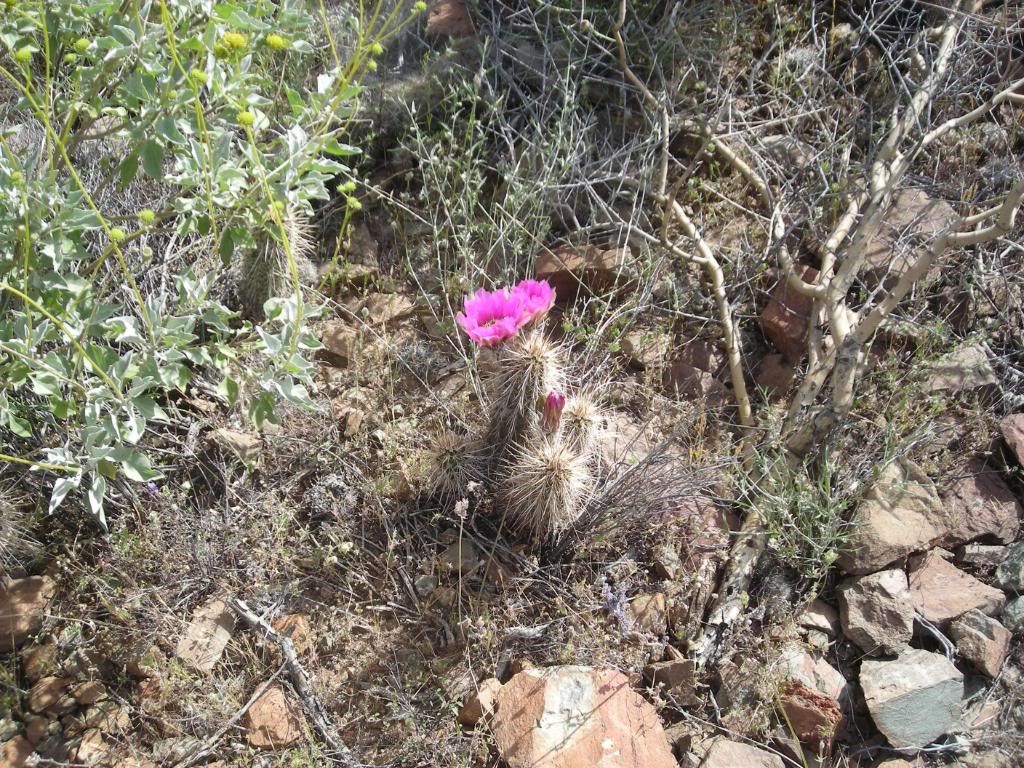 Another fine example of an E. engelmannii in bloom.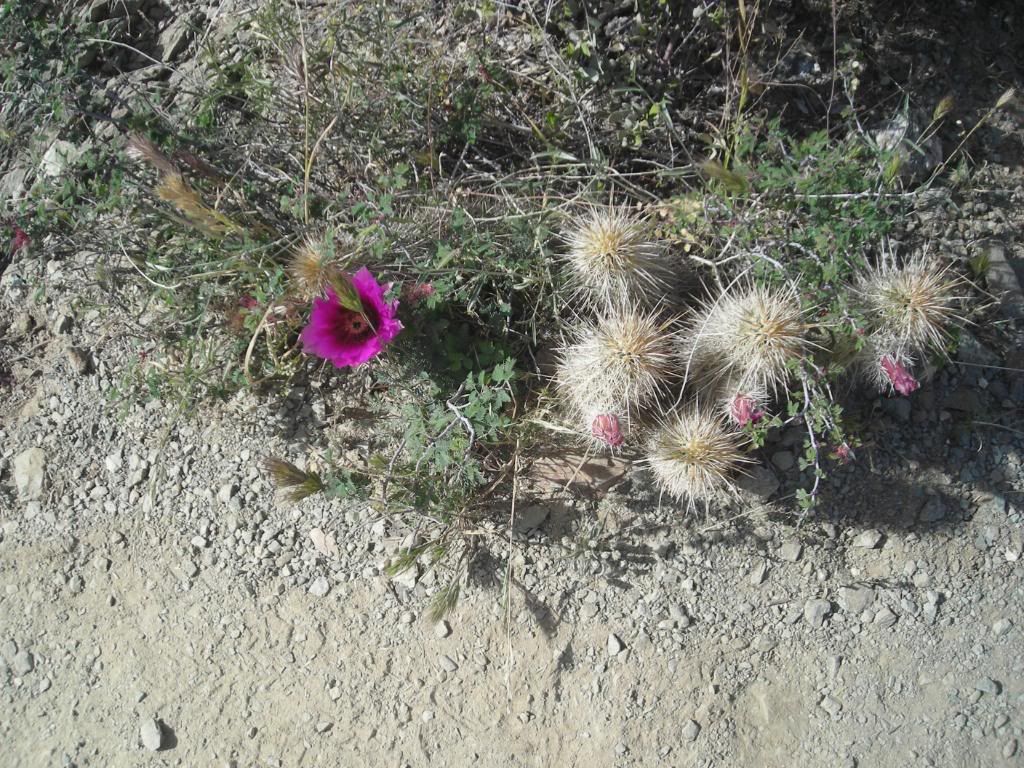 you would have to be blind to miss this one! Its right along the path near a wash!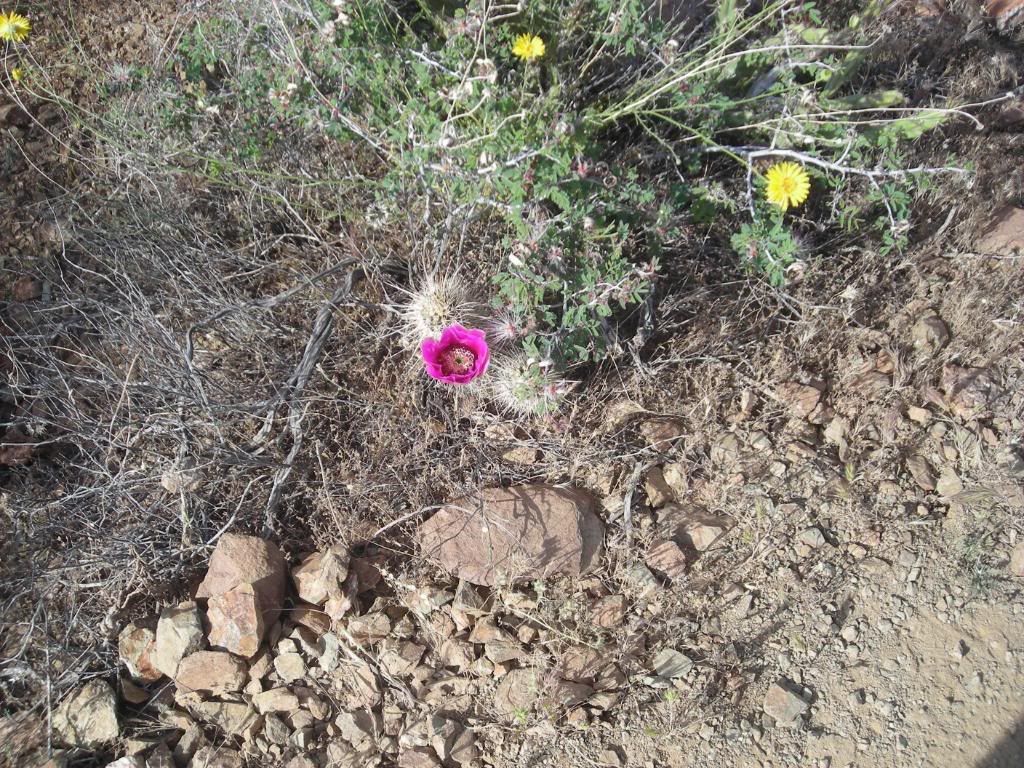 This one is about 10 feet away from the last one! As you can see there are many of these out there in the desert.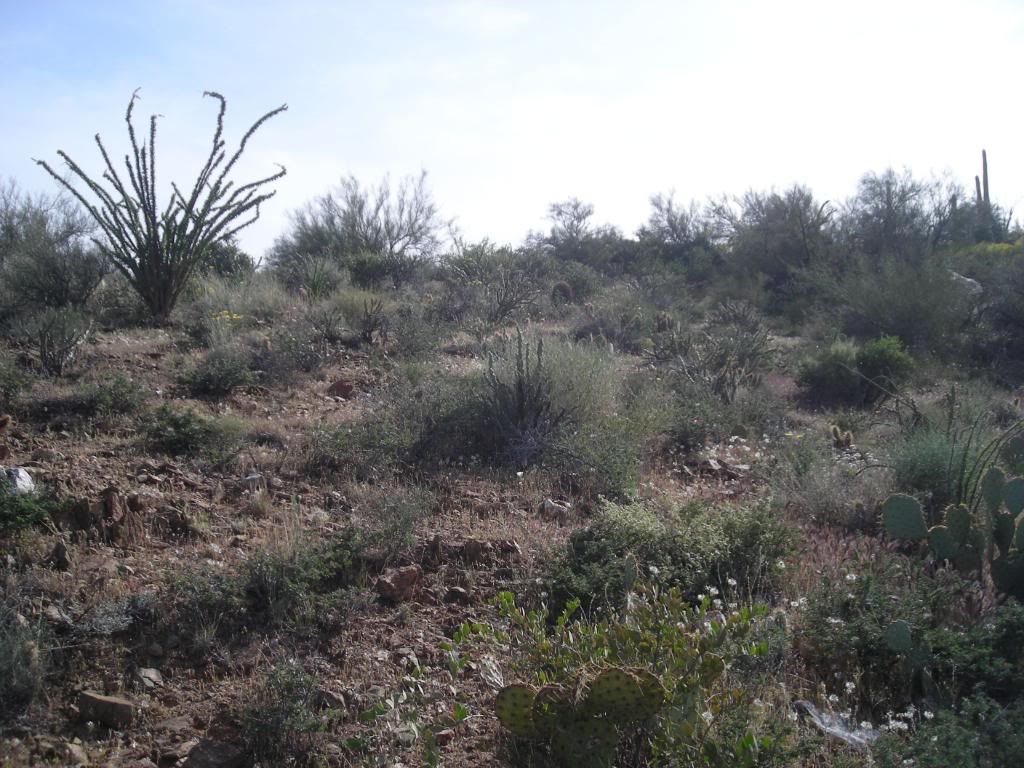 A general habitat shot that shows at least 5 to maybe 10 E. engelmannii in a short amount of space.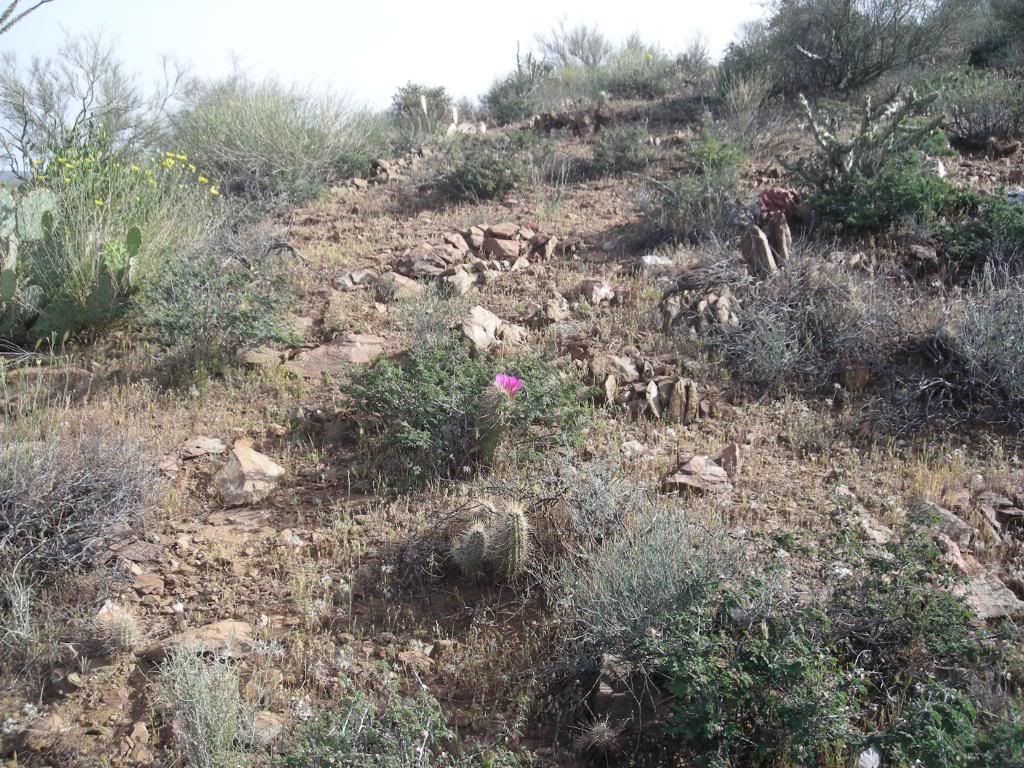 Area of the same hill as the pic above showing more E. engelmannii.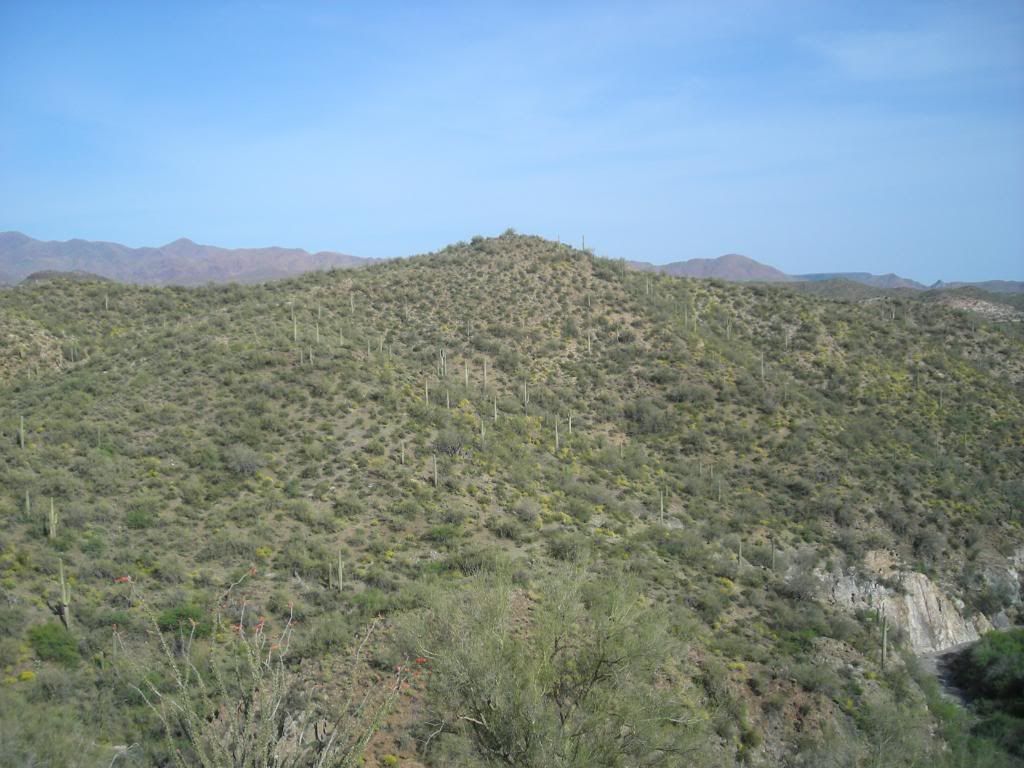 A general habitat shot showing part of the Aqua Fria river in the upper right, some of the foothills of the Bradshaws center of pic and the New River mountains, in the background left behind the foothills... Looking south-easterly.
E. engelmannii survivor of the year... Growing out of a crack in the rocks!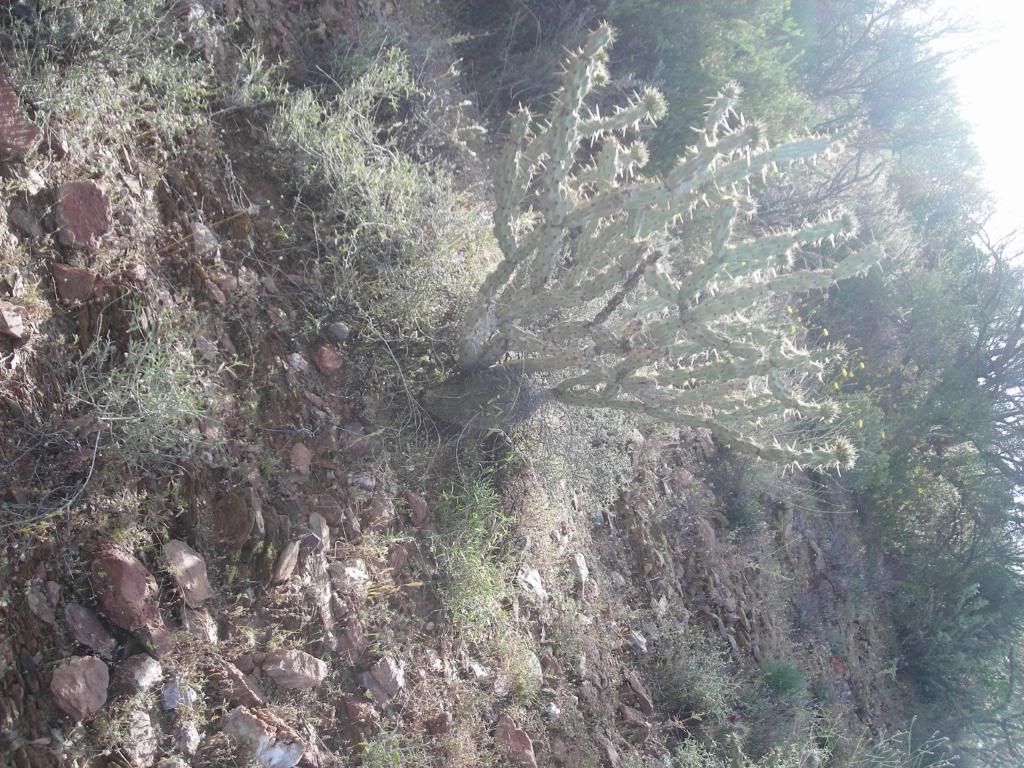 Parent of the year award.. to this cholla.. forget the name of it at the moment...

but its guarding this small saguaro !:)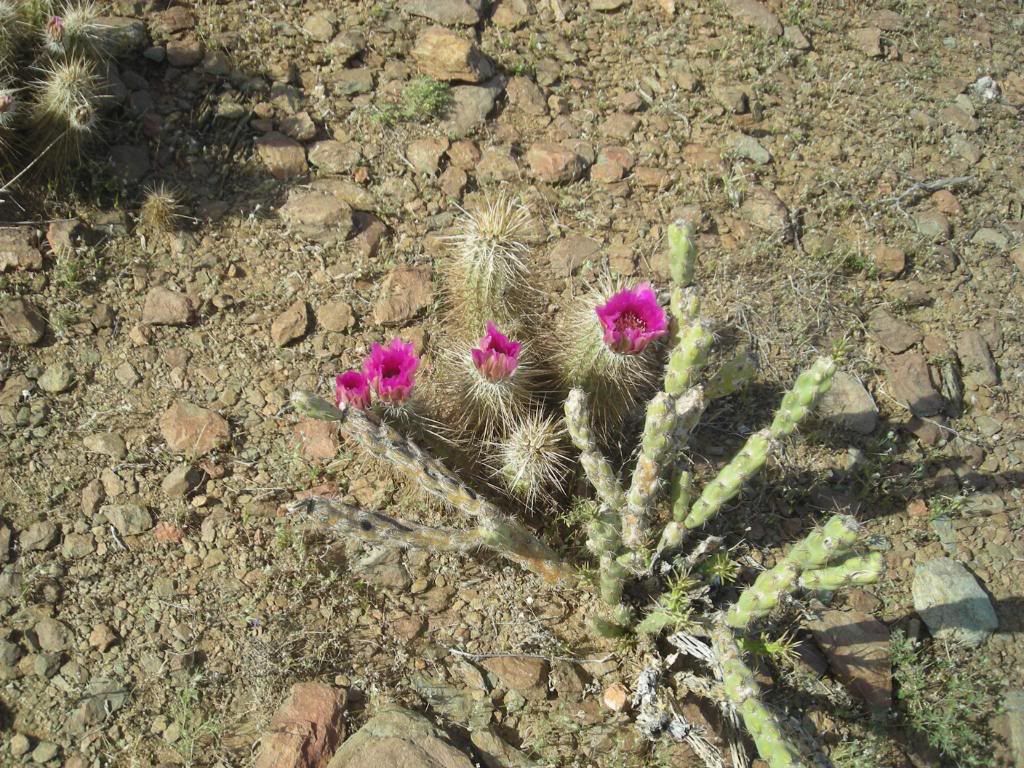 A nice clump!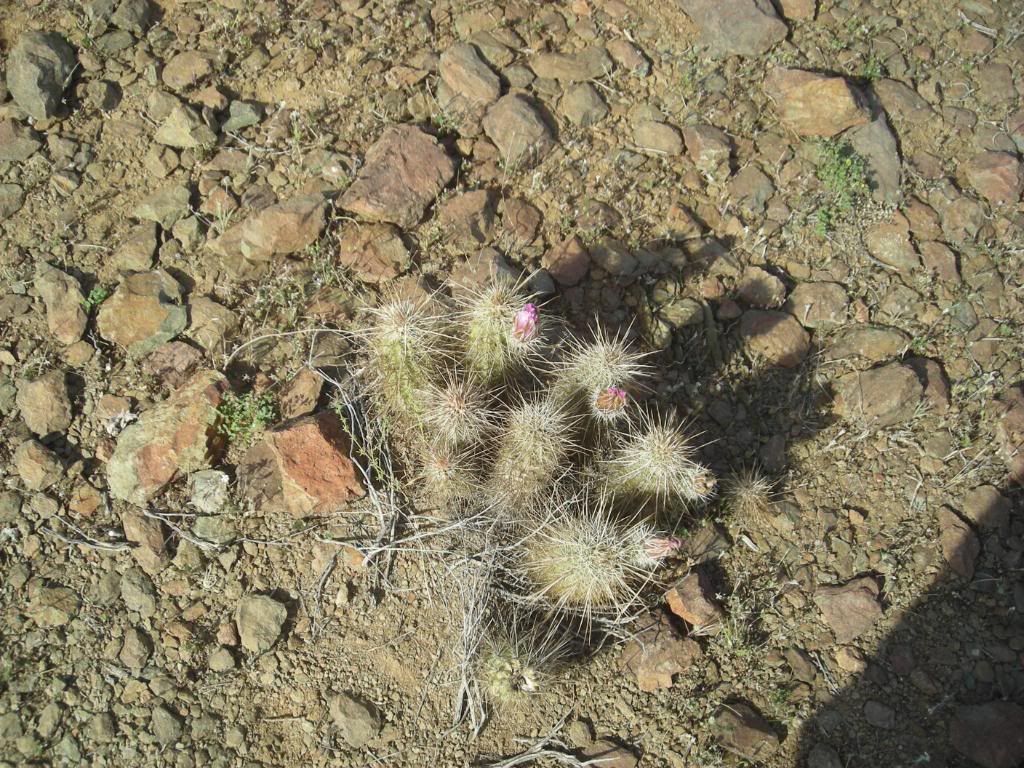 I just missed these blooms, oh well!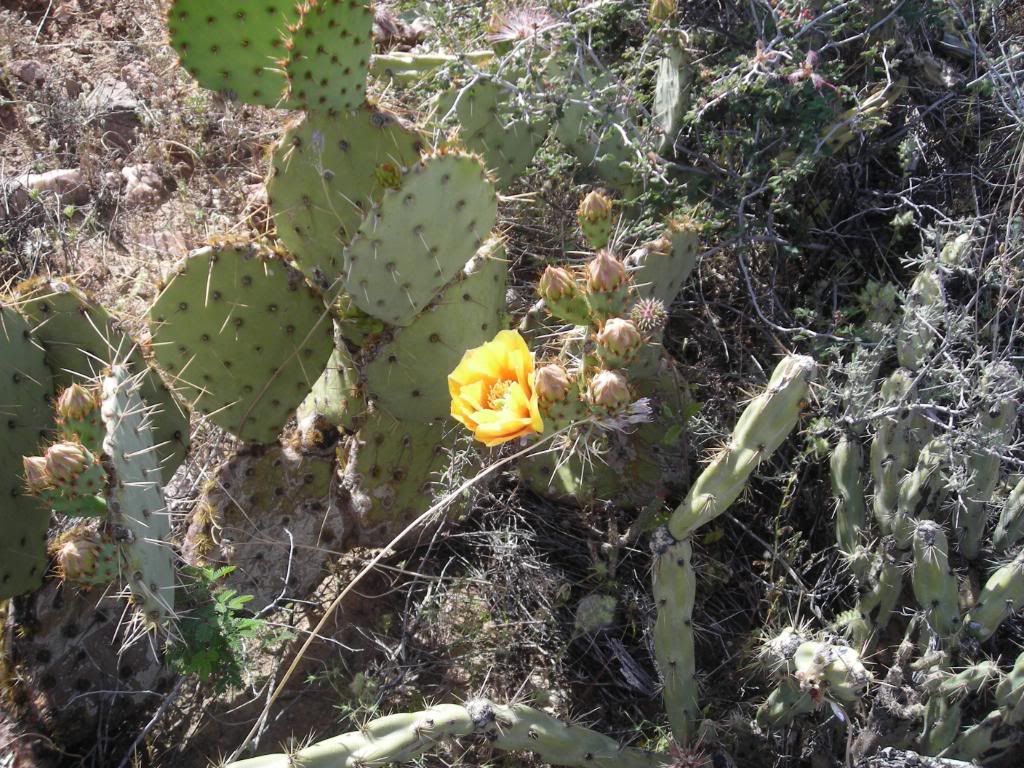 One of the few Opuntias that I encountered along the trail. Mostly its saguaros and E.engelmannii, plus some Fero's as well.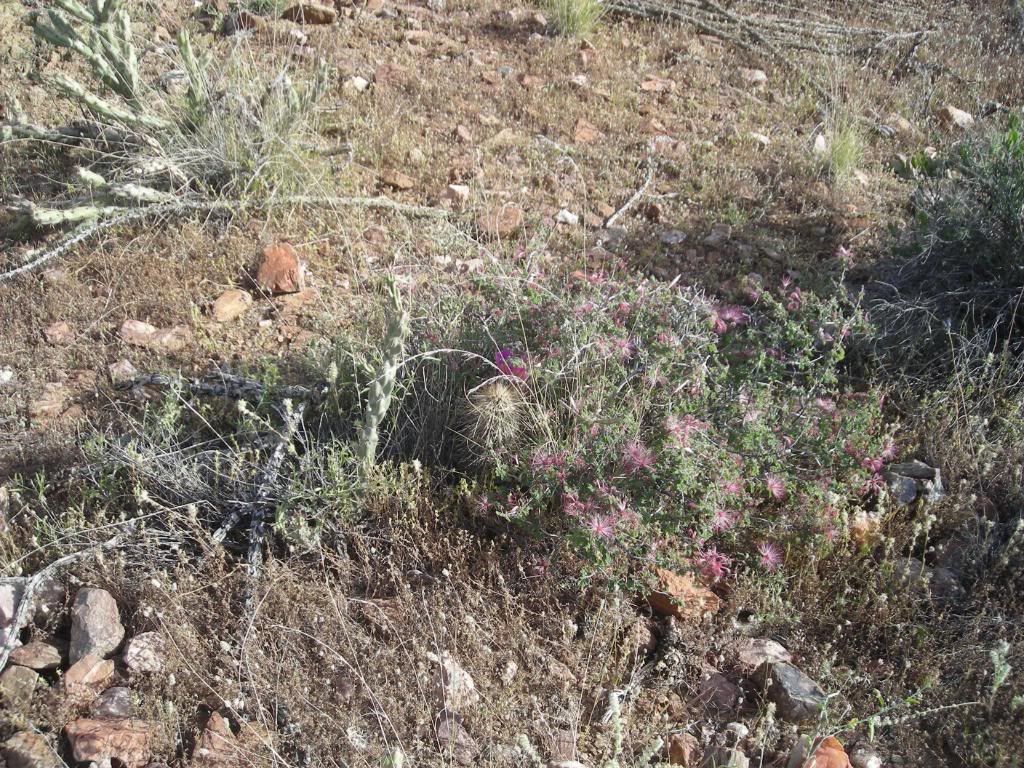 Another tiny one almost hidden behind the Baja Fairy Duster(dont know the Latin name for it, but its related to Mesquite and is a member of the bean family!)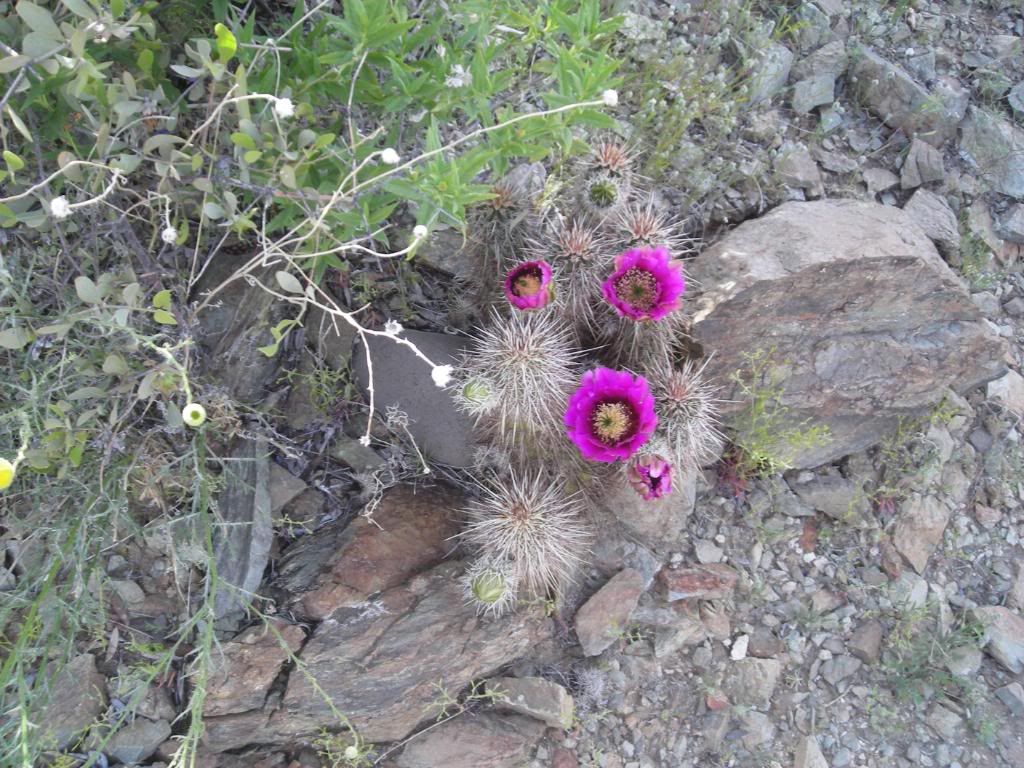 Runner up for E. engelmannii survivor of the year. This one is growing off a cliff. The rocks below it are at least 2 feet from where the plant is. Its a deceptive angle, but its true. This is also one of the last E. engelmannii that I saw.
Finally The Aqua Fria river.
LAst one that if found of the E. engelmannii. The must not like the extreme western exposure that I was near. (this is also close to where I saw the rattlesnake)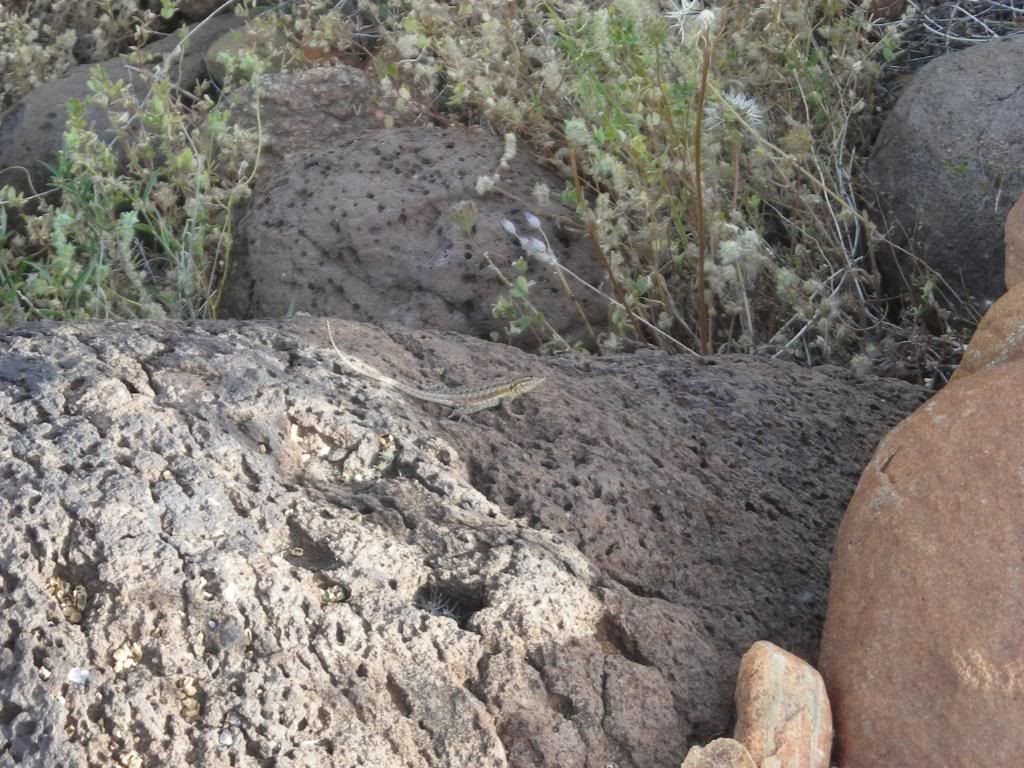 besides the rattlesnake I saw plenty of these lizards. Also I saw a few ground squierrls and a jack rabbit, the first one I saw, it was too quick for me to snap a pic. There was also a harris hawk, plenty of other birds, some quail that I could hear and not see, and the rattlesnake, oh and a pair of ducks at the river itself!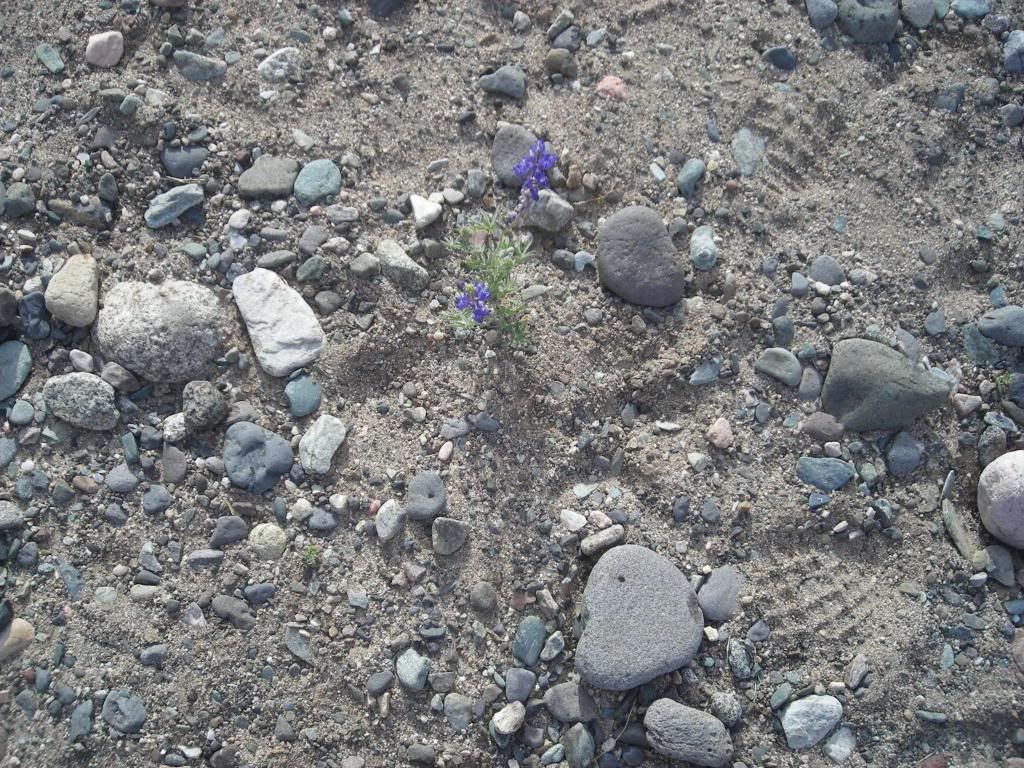 a lupine growing in an area that for few months was underwater.. AMAZING!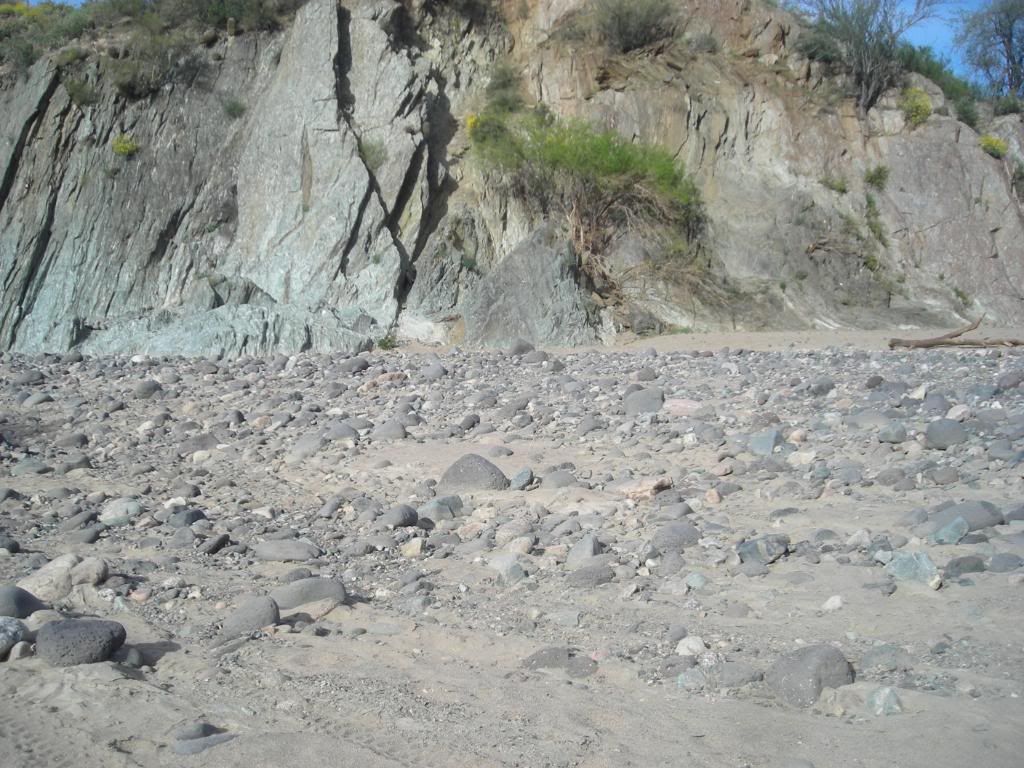 Flood damage in the river bottom itself. Notice the cliff.. I was up on top of that looking down earlier. ( I didnt include this pic!)
So there you have it a hike from the trailhead of the BCC heritage trail to the river on the shorter path. There is a longer path that least further NW towards the river thru some cow pasture which has cacti on it as well. Its also got some E. engelmannii and some saguaro and of course some barrels as well!
After spending some time doing this, I am tired.. ahahahaha its taken me almost an hour. Now I see why Harald was so annoyed when he lost everything. I did it slow and carefully!
Hope everyone enjoys the show and my obsession with taking photos and of course cacti.